How to find Alfa Heaven, Inc.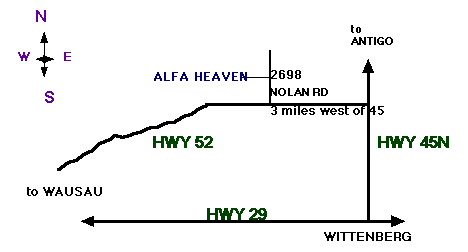 This is not done to scale.
It is a very simple map showing only the main highways close to us so that if you are in this area you can find us. There is a white motorcycle on a 6 ft. stand marking the drive entrance off Nolan Road. Once you get to Alfa Heaven, the lane goes between two long buildings and the building on your right has a side door entrance which will put you in our main shop, the most likely place to find someone.
HOURS: MONDAY THROUGH FRIDAY 8:00 AM UNTIL 5:00 PM, CENTRAL