CONDITION CODES:
N = NEW, DEALER TAKE-OFFS (Means removed when bike was new for some kind of
problem such as scratched in shipping, factory paint problem etc. Add to that however many
years the tank has sat on someone's shelf.)
NOTE: GAS TANKS DO NOT INCLUDE PETCOCKS.
Please note:
If you found this page using a search engine like google, please type in
www.alfaheaven.com
in your browser's address window or at least
refresh the page
.
Search engines do not have the entire site or the most current version of this page.
If the particular part you are looking for on this page is not listed here, we do not have it.
N = NEW, D = DENTED, S = SCRATCHED, R = HAS INTERIOR SURFACE RUST,
P= NEEDS PAINT (Most of these tanks need paint to look good)
U = USED, 1 = GOOD, for its age. 2 = Minor Damages, 3 = NEEDS A LOT OF WORK.

KAWASAKI GAS TANKS P.1 Updated Dec. 2017

| | | | | | |
| --- | --- | --- | --- | --- | --- |
| MODEL | YEAR | DESCRIPTION | CONDITION | STOCK # | PRICE |
| G4 100 | 8/71 | ORANGE | U2 D/P/R | K 130W | $50.00 |
| G4 100 | 8/72 | REPAINT | U2 P/D/R | K 181 B | $50.00 |
| G5 100 | 5/75 | BROWN | U2 P/D/R | K 166W | $50.00 |
| KM 100 | 1978 | BLUE | U3 | K 27W | $25.00 |
| KM 100 A | 1980 | RED | U2 R | K 47W | $50.00 |
| KE 125 | 5/78 | REPAINT | U2 P/D/R | KKK 113W | $35.00 |
| KD 175 | (1975 ?) | GREEN | U3 Pinholes | KB 22W | $25.00 |
| F7 175 | 1973 | ORANGE | U2 D/R | K 135W | $65.00 |
| S1F 250 | 2/1973 | COPPER | U2 P/D | K 54W | $50.00 |
| F5/F8 350 | 1972 | ORANGE | U2 P | K5W | $85.00 |
| S2 350 | 1972 | PRIMER | U2 P/R | K 107W | $50.00 |
| S2 350 | 1972 | RED | U2 P | KB 34W | $150.00 |
| KH 400 | 1976 | MAROON | U2 P/D/R | KK 8W | $40.00 |
| KH 400 | 1976 | GREEN | U2 D/R | K 104B | $50.00 |
| KH 400 | 1977 | GREEN | U2 P/R | KC 55W | $100.00 |
| KZ 400 | 1/76 | RED | U2 P/R | K 40 B | $40.00 |
| KZ 400 | 1975 | GRAY | U2 P/R | KD 5 W | $50.00 |
| KZ 400 | 1977 | BLUE | U2 P/D | K 185 W | $50.00 |
| KZ 400 | 1977 | RED | U2 P/DING | K 186 W | $60.00 |
| KZ 400 D | 1977 | GREEN | U2 P/R | K 147 W | $40.00 |
| KZ 400 H | 9/79 | BLACK | U2 D | K 202 B | $75.00 |
| S3 400 | 1975 | GREEN | U2 R | K 144 W | $90.00 |
| S3 400 | 1975 | GREEN | U2 D | KD 4 W | $75.00 |
| KZ 440 LTD | 1/82 | BLACK | U3 D/R | K157 W | $50.00 |
| GPZ 500 | 1982 | RED | U2 D | KD 9 | $80.00 |
| H1 500 | 1971 | BROWN | U2 R | K 6 W | $75.00 |
| H1 500 | 1972 | RED | U2 P | KC 47W | $80.00 |
| KZ 550 | 1983 | BROWN | N D | KA 32W | $100.00 |
| KZ 550 A | 8/80 | | U3 R/D | K 207W | $20.00 |
| KZ 650 B | 1/77 | BLUE | U2 P/D | K 150 B | $80.00 |
| KZ 650 B | 1978 | REPAINT | U2 P/D | K 138 W | $80.00 |
| KZ 650 B | 1978 | ORANGE | U2 P/D | K 201 W | $80.00 |
| KZ 650 C | 1978 | BLUE | U2 P/D | K 170 W | $100.00 |
| KZ 650 | 1978 | BLUE | U2 P/D/R | K 52 W | $40.00 |
| KZ 650 | 1978 | BLUE | U2 P/R | KC 53W | $60.00 |
| KZ 750 | 1979 | PURPLE | N | KA 3 W | $200.00 |
| KZ 750 B | 1976 | BROWN | U2 P/D/R | KB 43 W | $50.00 |
| KZ 750 B | 1977 | GOLD | U2 D | K 11 W | $75.00 |
| KZ 750 B | 1977 | RED | N D | KA 5 W | $75.00 |
| KZ 750 H | 1981 | MAROON | U2 D | K 143B | $90.00 |
Honda List
Ordering Info Warranty Info MOTORCYCLE INDEX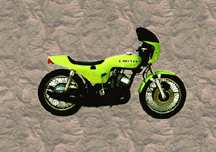 Home Page