These are the bikes we have in stock to pull parts off of to fill customer orders.
Body work pieces, i.e., fuel tanks, side covers, seats, exhaust & tails
have been removed from these units and listed on the specific pages e.g.
"Kawasaki Side Covers" page, etc. You may access these inventory lists
by clicking the category link at the bottom of this page or from
the Motorcycle Index page.

We do not sell cables.
These bikes are not for sale as a unit.
If the particular bike you are looking for parts for is not listed here, we do not have it.
When we quote condition on a particular part to you, we may say "it is in U2 condition."
The condition codes are defined as follows:
CONDITION CODES: U = USED,
1 = GOOD (considering age & wear. Not perfect. Not good as new.)
2 = MEDIUM (has some damage, maybe surface rust, maybe a dent or small dents or scratches).
3 = NEEDS A LOT OF WORK (use it only if you cannot find anything else).
Please note: If you found this page using a search engine like google, please type in
www.alfaheaven.com in your browser's address window or.
Search engines do not have the entire site or the most current version of this page. refresh the page
Updated Feb. 21, 2017 KAWASAKI PARTS BIKE LIST

| | | | | | | |
| --- | --- | --- | --- | --- | --- | --- |
| MODEL | YEAR | STOCK# | | MODEL | YEAR | STOCK# |
| G3 75 | 1975 | K 148 W | | KH 400 | 1976 | K70 W |
| G4 100 | 8/71 | K25 W | | KH 400 | 1976 | K104 B |
| G4 100 | 8/71 | K130 W | | KZ 400 | 4/74 | K35 W |
| G4 100 | 1975 | K 195 B | | KZ 400 D | 1975 | K 3 W |
| KE 100 | 5/75 | K166 W | | KZ 400 D | 1975 | K 19 W |
| KE 100 | 5/78 | K22 W | | KZ 400 D | 1975 | K 174 W |
| KD100 M | 1979 | K26 W | | KZ 400 D | 6/75 | K13 W |
| KM 100 A | 1978 | K27 W | | KZ 400 D | 1/76 | K39 W |
| KM 100 A | 7/80 | K47 W | | KZ 400 D | 5/76 | K 169 W |
| KE 125 | 5/78 | K113 W | | KZ 400 D | | K147 W |
| KE 125 | 2/80 | K153 W | | KZ 400 S | 8/75 | K119 W |
| F6 125 | 1972 | K85W | | KZ 400 S | 5/75 | K10 W |
| F3 175 | 1/70 | K38 W | | KZ 400 S | 1/76 | K40 W |
| F7 175 | 12/73 | K142 W | | KZ 400 H | | K 202 B |
| F7 175 | | K206 B | | S3 400 | | K32 W |
| KD 175 | 1974 | K21 W | | S3 400 | | K144 W |
| KE 175 | 76/77 | K146 W | | S3 400 | | K94 B |
| F8 250 | 12/71 | K154 W | | S3 400 | | K8 W |
| F11 250 | 3/74 | K57 W | | KZ 440 LTD | | K122 W |
| KE 250 B | 1977 | K 177 W | | KZ 440 LTD | | K16 W |
| KZ 250 CSR | 9/80 | K0W | | KZ 440 LTD | 1/82 | K157 W |
| S1 250 | 3/73 | K54 W | | KZ 440 LTD | | K78 W |
| S1 250 | 12/74 | K117 W | | | | |
| S1 250 | 1975 | K126 B | | H1 500 | | K108 W |
| KH 250 | 6/75 | K103 B | | H1 500 | | K69 W |
| KH 250 | 2/76 | K141 B | | H1 500 | | K36 W |
| F9 350 | 1974 | K106W | | H1 500 | | K205 B |
| F9 350 | 1974 | K 77 W | | H1 500 | | K99 W |
| F9 350 | 9/74 | K 145 W | | H1 500 | | K152 W |
| A7 350 | 4/70 | K 191 W | | H1 500 | | K115 W |
| S2 350 | 1973 | K 107 W | | H1 500 | | K6 W |
| S2 350 | 1972 | K 53 W | | KH 500 | | K59 W |
| S2 350 | 8/72 | K 182 B | | KH 500 | 1976 | K67 W |
| S2 350 | 1/73 | K 175 B | | GPZ 550 | 1982 | K 0W |
| | | |
| --- | --- | --- |
| MODEL | YEAR | STOCK# |
| KZ 550 LTD | 1980 | K 200 W |
| KZ 550 A | 8/80 | K 207 B |
| KZ 550 C | 7/81 | K 159 W |
| KZ 550 C LTD | 1/80 | K 200 W |
| KZ 550 T | 6/82 | K 51 W |
| KZ 650 | 1978 | K 91 W |
| KZ 650 B | 1/77 | K 197 B |
| KZ 650 B | 1/77 | K 150 B |
| KZ 650 B | 11/77 | K 138 W |
| KZ 650 B | 1978 | K 201 W |
| KZ 650 B | 1978 | K 210 B |
| KZ 650 B | 2/78 | K 90 W |
| KZ 650 C | 9/77 | K 170 W |
| KZ 650 C | 9/78 | K 52 W |
| KZ 650 E | 7/79 | K 31 W |
| H2 750 | 1972 | K 110 W |
| H2 750 | 2/74 | K 12 W |
| H2 750 | 1975 | K 102 W |
| KZ 750 B | 1/76 | K 17 W |
| KZ 750 B | 1977 ? | K 11 W |
| KZ 750 B | 8/78 | K 1 W |
| KZ 750 LTD | 1/80 | K204 B |
| KZ 750 E | 9/80 | K 133 W |
| KZ 750 E | 1981 | K 209 W |
| KZ 750 H | 2/80 | K 7 W |
| KZ 750 H | 1981 | K 178 W |
| KZT 1000 LTD | 5/77 | K14 W |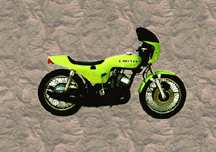 Honda List
Yamaha List
Suzuki List
MOTORCYCLE INDEX Ordering Info Warranty Info
Email: Alfa Heaven, Inc.
HOURS: MONDAY THROUGH FRIDAY 9:00 AM UNTIL 5:00 PM, CENTRAL