ALFA HEAVEN INC.

The Alfa Heaven
MotorSports Bar




Summer Friday nite band nites is over but

we're not done yet!

We have our Holiday Events you don't want to miss

starting in Oct. with our

Friday the 13th party

featuring the

Hindenburg Ground Crew.

Thirsty Thursdays 7pm - 11:00pm, Now Open Mic Nite
House sound system. Bring your talent and your instrument(s)!


For Hall Rental, please call 9-5 Mon - Fri. for info and booking.

MotorSports Bar

Holiday Events


Band plays 8 - midnight

October 13th - Hindenburg Ground Crew
Friday the 13th Superstitions Party!
Miss it and you're chancin' bad luck!!


October 27th - Prokrastinators

Come to the Halloween Costume Party
Potluck supper starting at 6:00pm.
Friday Oct. 27th!

November 18th - Ladies Nite (details later)

You don't have to be part of a club.
Everyone is welcome to take a tour.
Club Tours Welcomed!

(Add YOUR event 715-449-2141)

(These 2 ad spaces donated to Motorama Auto Museum Ltd. by Alfa Heaven, Inc.)

Central Wisconsin Military Show

2017 show was held August 12th

Join us next year for the

Wisconsin Military Show
Aug. 9th - 11th.

August 9th is the vendor day, the show opens
to the public in the afternoon of the 10th and
runs all day Saturday the 11th.

Military Vehicle Show and
Militaria Swap Meet.

(follow the progress at www.facebook.com/Motorama.Auto.Museum)

click for more info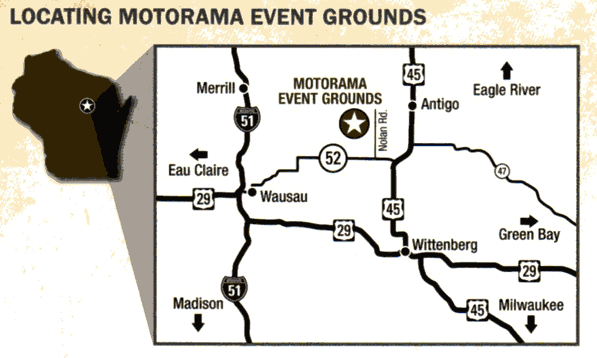 (RT)
Contact:
Alfa Heaven, Inc.
4381 Stradale Lane, Aniwa, Wisconsin, 54408 USA
Tel: 1-715-449-2141
ALFA HEAVEN INC. HOURS: MONDAY THROUGH FRIDAY 9:00 AM UNTIL 5:00 PM, CENTRAL TIME
(Motorama Museum hours are Tuesday through Saturday, 9:00 - 5:00 pm Central Time)
e-mail: cosmo@alfaheaven.com
please note: e-mail is not 100%. Some customer messages get caught in our provider's junk mail
trap and if you sent a message that inadvertently had a virus, we won't get that either. Also, some
of our responses have been returned as "undeliverable" or "refused."
Attention: If you found this page using a search engine like google,
please type in www.alfaheaven.com in your browser's address window.
Search engines may not have the entire site or the most current version of this page.
Also, if you visit frequently, your browser may store an old page.
Hit the refresh button to get the current page.