ALFA HEAVEN INC.

The Alfa Heaven
MotorSports Bar

Due to cooler weather moving things indoors,
the Fall band schedule has been cancelled
Let's all hope for a better 2021!


MotorSports

Bar

Watch for MotorSports bar updates on

the Motorama facebook page.

For Hall Rental, please call 9-5 Mon - Fri. for info and booking.

Mid-century Auto Museum of vehicles from around the world.
Click for photos

You don't have to be part of a club.
Everyone is welcome to take a tour.
Club Tours Welcomed!

(These ad spaces donated to Motorama Auto Museum Ltd. by Alfa Heaven, Inc.)

Due to current conditions this 2020 season,
Motorama will be open only on Thursdays
and Fridays for people to tour the museum.
Everyone who visits is required to wear a
mask indoors or outside within
10 feet of someone not in your group.

Small group tours or private events can
be booked for Saturdays.
Please call

715-449-2141

This year we welcome

a new sponsor

We thank the Wisconsin Public Service Foundation for supporting this endeavor!

We wish to thank all
of you who came to see
The Central Wisconsin
Military Show in 2020!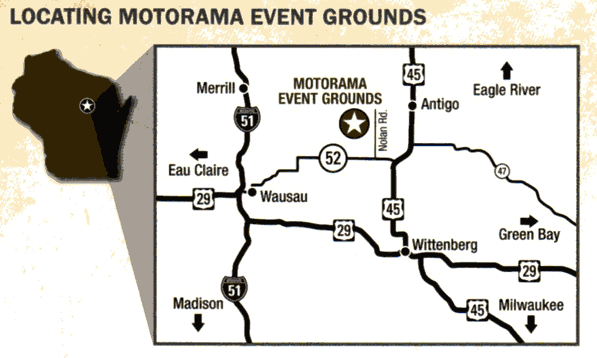 Contact:
Alfa Heaven, Inc.
181705 Stradale Lane, Aniwa, Wisconsin, 54408 USA
Tel: 1-715-449-2141
ALFA HEAVEN INC. HOURS: MONDAY THROUGH FRIDAY 9:00 AM UNTIL 5:00 PM, CENTRAL TIME
(Motorama Museum hours are May thru Oct., Tuesday through Saturday, 9:00 - 5:00 pm Central Time)
e-mail: cosmo@alfaheaven.com
please note: e-mail is not 100%. Some customer messages get caught in our provider's junk mail
trap and if you sent a message that inadvertently had a virus, we won't get that either. Also, some
of our responses have been returned as "undeliverable" or "refused."
Attention: If you found this page using a search engine like google,
please type in www.alfaheaven.com in your browser's address window.
Search engines may not have the entire site or the most current version of this page.
Also, if you visit frequently, your browser may store an old page.
Hit the refresh button to get the current page.